.
USE SLEEPTALK® TO RESOLVE ISSUES INVOLVING:

Bed-Wetting – Sibling Rivalry – Hyperactivity – Sleep Issues – Appetite – Separation Anxiety – Bullying – Co-Operation – Aggression – Confidence – Not Talking – Body Image … and many more behavioural and emotional issues, including some issues on the autism spectrum.
.
The Goulding SleepTalk® for Children process is a wonderful, non-invasive, safe 2-minute process that you conduct with your child in your home after your child has gone to sleep. This process is safe, ethical and drug-free, and it works if you follow it as taught and stick with it.
.
SleepTalk® teaches parents to work with their own child(ren) while they sleep. As a result children awaken with a more positive mind set. It only takes parents about 2 minutes per evening and the changes last for life. Parents talk – children listen – waking up bright and happy.  This  auto-suggestion technique for children up to the age of 16 speaks directly to the subconscious mind. The subconscious mind stores beliefs and it's from these beliefs that children will act for the rest of their lives. Life-affirming beliefs instilled through SleepTalk® of feeling loved and lovable result in a firm foundation of high self-esteem for life. (Children who received SleepTalk® over 30 years ago are now using the SleepTalk® process with their own children!)
No matter what the presenting issue, whether children have special needs or not, SleepTalk® can help. SleepTalk® consistently shows that children become happier, more relaxed, engaged and focused. In addition, symptoms of anxiety or aggression commonly resolve completely. These have also been the results for children on the autism spectrum. The process works if you follow it exactly as taught and stick with it.
Empowering parents:
The Goulding SleepTalk® process empowers parents to help their children achieve self-confidence and inner strength.
Goulding SleepTalk® empowers parents to give their children positive suggestions to help with general and specific issues in their lives.
This process is a safe, ethical and non-intrusive process suitable for any family and lasts for life.
Children's healthcare professionals have been using the The Goulding SleepTalk® process for over 40 years.
The Goulding SleepTalk® process gives parents a chance to undo any harm caused by unkind words.
It has been successful in resolving all the issues mentioned at the top, sometimes in just a few days. SleepTalk® has been used effectively by thousands of families around the world over the last 40 years. The SleepTalk® founders, Joane and Jim Goulding, developed the process for their daughter Michelle, with astounding results.
.
Even if your child has none of those issues but you want to ensure s/he feels deeply loved and secure and confident and is growing up with all the right beliefs to live an empowered and productive life, then SleepTalk® is also for you.
The 6 month Private Consulting Package with Michelle Mayur includes:
3 x 2 hour 1:1 meetings in person, via Skype or phone during which we focus exclusively on you and your child.
Plus unlimited email and phone contact between sessions so that you feel fully supported.
This process is safe, ethical and non-invasive, and it works if you follow it as taught and stick with it.
To book in for your SleepTalk® private consultation or ask any questions, CONTACT MICHELLE MAYUR HERE.
NEW
Payment Plan Option Now Available!
or
The NEW ONLINE SleepTalk® for Children Parental Edition is NOW AVAILABLE.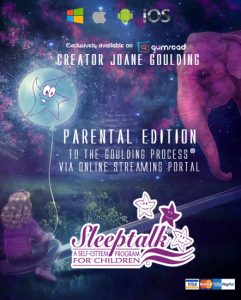 Gumroad is a well-known, successful video streaming portal which now hosts Joane Goulding's world-acclaimed SleepTalk® for Children Process. For the first time ever, you can now learn The SleepTalk® Process in the comfort of your own home. Learn how to deliver SleepTalk® to your children in comfort and convenience on the devices of your choice, at your own pace and at the times of your choice.
More Information at https://unconditionallyloved.com.au/index.php/sleeptalk-parent-online-training-package/.
.
.
Through the Goulding SleepTalk® process, incorporating the 'Top Hat' technique, the subconscious mind of a child redefines its belief structure. A child accepts alternate suggestions which upon awakening become their truth and reality. Not all children need this process but it's a given that they will all benefit from it.
Children are our future and as parents we need to recognise this with a sense of urgency. If we are to take care of the children, we need to take care of the now. It's not what we leave to our children that matters, it's the knowledge that we leave within their minds.
This two minute gift creates changes that last a lifetime.
The Goulding SleepTalk® process is for children with difficulties, and children with none. It's for every parent who wants their children to reach their potential, whatever that potential may be.
.
The Goulding SleepTalk® process isn't a cure for illnesses, but a gentle way to enhance children's self-esteem and make their lives more positive. You have only to read the testimonials and case studies to see that. It's about fertilising your child's mind with the power of the positive, and giving your child the greatest gift of all: an attitude of happiness and confident self-esteem.
"SleepTalk® is about giving emotional hugs to our children – not just physical hugs." ~ Joane Goulding
The process is about developing a child's emotional resilience, the mind's firewall, which protects against negative suggestions, much like a firewall on a computer protects it from outside interference and damage.
The Goulding SleepTalk® Process appears to activate neuroplasticity (Norman Doige MD, The Brain that Changes Itself) and research is currently being conducted both in Australia and Singapore.
.
Special Children
Most of us would agree that it is difficult for children to confidently deal with issues in their life if they are anxious, fearful, unhappy or even believe they are unloved or unlovable. Children trying to cope with bed-wetting, for example, can be anxious, sad, and lack self-confidence. Children given the label ADHD (Attention Deficit Hyperactivity Disorder) may in fact be trying to deal with their world and their family.
Indigo or Crystal children may have been incorporated under this label. And what, you may ask, are Indigo or Crystal children? That has been presented as an alternative way to describe children who are sometimes labelled as "ADHD" or "ADD". These are in fact beautiful children, and you may want to check the links that describe such children in a MUCH more helpful light. "They" say that sticks and stones may break one's bones, but names can never hurt me … but we all know that names CAN hurt, and they can hurt very much. More about Crystal and Indigo children.
Learned helplessness occurs with children in almost any family, and suggestions accepted as truth become part of the belief system of their subconscious minds. Younger children are especially vulnerable, accepting negative suggestions with the same energy as positive ones. If your child's belief structure is one based largely on fear or lack of confidence, a feeling of rejection or inadequacy, the ensuing decisions made by their conscious mind will of course reflect those beliefs.
.
Watch:
Interview with Joane Goulding: The Goulding SleepTalk® Process – part 1
An Interview with Joane Goulding: The Goulding SleepTalk® Process – part 2
Interview with Joane Goulding: The Goulding SleepTalk® Process – part 3
Download PDF: The effects of auto suggestion stay with our children for life!
published by The Australian Journal of Clinical Hypnotherapy & Hypnosis. Volume 33. Number 2 Spring 2011
.

Accredited Goulding SleepTalk® Consultant
.