Here are some related books you may enjoy.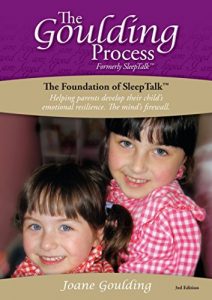 .
buy now
* Check out Joane Goulding's full range of SleepTalk® TOOLS, AUDIOS and NEW ONLINE PARENTAL TRAINING HERE.
Joane Goulding: The Goulding Process
The Goulding Process (formerly called SleepTalk® for Children) was developed in the 1970s, and empowers parents to improve and balance their child's behaviour. The dramatic positive change and calmness it creates permeate throughout the entire family. It's for parents looking for a simple, non-intrusive way to develop a child's emotional resilience, building the mind's firewall, protecting it against negative suggestions. It's been called: "The two minute gift with changes that last a lifetime."
---
Michelle's #1 Bestselling Book
.
.
Michelle Mayur: Embraced by the Divine – The Emerging Woman's Gateway to Power, Passion and Purpose
"Embraced by the Divine – The Emerging Woman's Gateway to Power, Passion and Purpose" is an exceptional anthology filled with raw authenticity, love and spiritual wisdom from some of the most light-filled female way-showers of our time. This is the perfect inspirational book to increase your confidence to manifest your dreams and to fully embrace your life purpose at the highest level. If you are feeling that deep inner soul stirring to break through limiting beliefs and fears to reclaim your power, then look no further!
---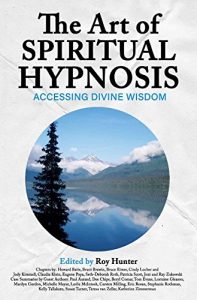 Michelle is a co-author in this bestselling book
Roy Hunter: The Art of Spiritual Hypnosis – Accessing Divine Wisdom
People of all faiths pray, seeking answers from a Higher Power. Whether or not you pray often, seldom, or never, have you ever wondered what it would feel like to receive an immediate response from a prayer? What if hypnosis and meditation were keys to making this possibility become reality? This book includes the spiritual sessions of scores of people from around the world, documented by some of the leading hypnosis practitioners from countries in both hemispheres.
_____________________________________________________________________________________________________________________________________________________________________________________________________________________________________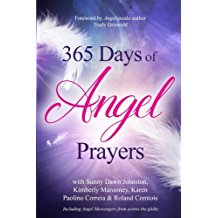 Michelle is a co-author in this bestselling book
Sunny Dawn Johnston: 365 Days of Angel Prayers
What if every day you could encounter the divine? What if you could regularly know the blessing of deep peace and abiding joy? What if you could talk to angels? Great news—you can! 365 Days of Angel Prayers is a multi-author anthology of daily readings written to inspire and guide you to experience a rich and continuous communion with the angelic realm.
_____________________________________________________________________________________________________________________________________________________________________________________________________________________________________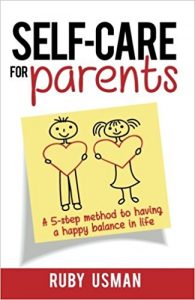 Self-Care for Parents
Author: Ruby Usman
Amid the chaos of thousands of books offering parenting advice, societal pressures about the right and wrong way to parent, and peer pressure to keep up with emerging trends, Self-Care for Parents comes as a refreshing read that focuses on parents rather than parenting.
---
The Brain That Changes Itself
Author: Norman Doidge, M.D.
This is a book about stories of personal triumph from the frontiers of brain science. The book states that: "Norman Doidge, M.D., is a research psychiatrist and psychoanalyst on the faculty at the Columbia University Psychoanalytic centre in New York and the University of Toronto, as well as an award-winning writer. He has presented his scientific research at the White House."
---
The Journey® an extraordinary guide for healing your life and setting yourself free
The journey guides the reader directly to the root cause of any long standing difficulty and then gives the tools to finally and completely resolve it.
Author: Brandon Bays – Publisher Element – 2003
---
You Can Heal Your Life
Author: Louise L Hay
Publisher Specialist Publications – NSW Australia 1988
---
Putting it all together: The New Orthomolecular Nutrition
Author: Hoffer Abram & Walker Morton
Publisher Keats 1996
---
The Crystal Children
Author: Doreen Virtue Ph.D.
A guide to the newest generation of psychic and sensitive children.
Published by Hay House 2003
---
The Indigo Children. The New Kids have arrived
Authors: Lee Carroll & Jan Tober
This book is a must for parents of unusually bright and active children.
– Publisher Hay House – California – USA – 1999
---
The Woman Who Changed Her Brain
Barbara Arrow-Smith
Unlocking the extraordinary potential of the human mind.
---
Additive Alert It's a sad fact, but food is not just food anymore. Over the past 50 years the use of food additives has skyrocketed to the point where very few of us have any real idea exactly what`s in the food we eat. Alarmingly, the rates of diseases such as cancer, obesity, diabetes, autism, depression, asthma and ADHD have also increased dramatically over this time.
---
What do you really want for your Children Author: Wayne Dyer
Publisher Hay House – California – USA – 1985
---
The Care and Feeding of Indigo Children A guide to the care and food preparation of indigo children.
Author: Doreen Virtue Ph.D. – Publisher Hay House – 2001
---
What Your Doctor Doesn't Know About Nutritional Medicine May Be Killing You Author: Ray D. Strand M.D.
---
Dr. Jo Anne White: More Heaven – Because Every Child is Special
Based on a true story, More Heaven: Because Every Child is Special about six children with autism and special needs and their teacher who gives them a chance at learning and life. Despite challenges and a lack of support, Miss Tina Randolph's commitment to reach, teach, and inspire these children is unwavering. By accepting their uniqueness and participating in their private fantasy world, while at the same time engaging them in the real world, she eventually succeeds..
---
.
Dr. Jo Anne White: Bully Free
2015 Mom's Choice Award Distinguished Honoree. Bully Free is filled with candid interviews and valuable advice.  A must read for every parent, school authority, educator, professional and member of any community. This book is for everyone interested in creating bully free environments, interactions, and behaviors at home, in schools, in social situations, and more.

Michelle Mayur is an Accredited Goulding SleepTalk® Consultant
.